Welcome to the world of Enthusiast Holidays! Acclaimed for many years as a market leader in the operation of tours for steam railway enthusiasts, especially dedicated photographers and video/film-makers, and those who want also to see a little of the culture of the countries they visit, Enthusiast Holidays has since 1986 satisfied an international clientele. Our programme of rail-based inclusive tours has now been expanded to include Christmas Markets, a classic winter Italian railtour, a commemorative journey visiting many places of interest and fascination relating to World War II; and a growing portfolio of special interest tours including food and drink, winter sports, opera and others in the pipeline.  Click on "Classic traction and non-steam tours" for our current offerings.
Unfortunately, in 2020 and for most of 2021, all the plans of Enthusiast Holidays, and other operators of railway tours worldwide, were thrown into disarray by the Coronavirus which effectively blocked international travel. Then came Russia's brutal invasion of Ukraine, which completely set back any ambitions for tours in that part of the world. Elsewhere things are gradually returning to normal, and we are  resuming business in Summer 2023. 
Enthusiast Holidays celebrated its 40th anniversary in 2022, and it has survived when many others who entered the railway enthusiast tour market, have come and gone. But nobody ever said it was going to be easy! It is an unfortunate fact that many countries where steam survives, are or have in recent years been, politically unstable – look at Burma, for example, or the former Jugoslavia. In Pakistan the disastrous security situation makes the monsoons that washed half the Khyber Pass away, and a m.g. system based on Mirpur Khas that hasn't seen working steam for years, somewhat irrelevant at the moment. Ukraine steamed its last in 2007, with all the locos. supposedly scrapped in 2008 as it was uneconomic to keep them – in any case the strife with Russia made it impossible to operate the highly successful "Dzherelo" trains like we did in the 'nineties. However the Ukraine may be due for a comeback – see below! (IF it recovers from being particularly hard hit by Covid, and IF they manage to defeat the Russians!)
It is because of 40 wonderful years of running steam tours to many places around the globe, that we decided to write a book! "Gricer" is both an album of photographs – nearly 400 colour, and 125 black & white – and an autobiography of author Vic Allen – it costs £60, but running as it does to 600 pages, and given that every copy includes a USB memory stick containing the same material, but with the addition of soundbites, and links to video clips (often full length videos shot on Enthusiast Holidays' tours) it represents fantastic value for money. Click on the image for more details!
Similarly, we have amassed quite a lot of movie material, from which we have created a number of videos, most depicting scenes no longer repeatable! Compiled over the years from 16mm silent footage, through early analogue video, and digital video up to HD and now 4K, we are gradually creating a library of overseas steam, available on DVD and Blu-Ray – click here to see which programmes you can get right now. 
Enthusiast Holidays has always striven to run tours to places where steam survives in ordinary service, augmented by charter trains only where that is no longer possible; however the number of countries that meet those criteria is virtually nil – the narrow gauge steam lines in East Germany are fabulous, but are principally for tourists and so do not count – consequently our only definite tour for 2020 was to have been Sandaoling  – the coal mine in the far west of China – a pain to get to, but the very last substantial working steam operation in the world, with its fleet of "JS" 2-8-2's working incredibly hard and noisily – in what may well have been the last winter of their existence. We understand however that they are hanging on so we may run in Winter 2024 – perhaps with a couple of days in Tiefa, where there are 2 "SY" 2-8-2's which we will use on charter passenger and freight trains – take a look at Steam Tours/Tours on Hold to see what we plan.
Moreover Enthusiast Holidays is embracing the growing interest in what might be described as "Classic Modern Traction" – particularly among enthusiasts who are of an age that grew up with it. Our first such tour was to have been to Kenya in 2014 – using the now elderly Class 71 and 87 English Electric diesels – but that tour had to be postponed because of the threat of terrorism. We are now once again contemplating a tour, using those diesels, and the three steam locomotives – 3020, 2409 and of  course 5918 "Mount Gelai" the Garratt; moreover we now have the chance for a journey on the new Chinese-built standard gauge line, perhaps with a depot visit, as with the TATA industrial railway at Magadi. An unexpected extra opportunity for a run with steam traction has been provided by the decision of Kenya Railways to refurbish the metre-gauge line from Nairobi to Nanyuki via Thika, a very scenic route of some 240 kms! 
We're still promoting the tours in France run by the Le Creusot 241P people – but 2019 – 2021 were devoted to maintenance, so no "voyages de vapeur".  But as you will see if you click onto the France page in "steam tours", the programme of short tours is now published, but using 2-8-0 140C27, a North British product of 1917. Similarly we offer facilities to take in the annual spring  Baie de la Somme events in Northern France. Italy next door operates some very attractive rail tours in superb scenery, and our new parent Company's association with Trenitalia, the Italian State rail operator, puts us in a prime position to bring these products to our clientele, as indeed in Greece, where we also have aspirations to run some steam + "classic traction" tours, and where the national railway system is also under Trenitalia control.
Going back to our "roots", in Poland one August, based on the museum depot of Chabowka in the South-East – our tour will combine modern "classic" traction with enough steam to rival the old steam tours programme in popularity. Keep an eye on our "Classic Traction & predominantly non-steam" category as things develop.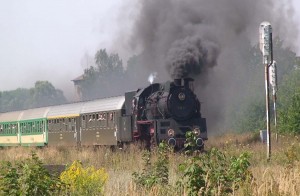 Enthusiast Holidays really started life in 1975 as the Magic of Steam in Poland, and appropriately celebrated its 40th Anniversary by promoting a tour (run by the Wolsztyn Experience people) using an Ol49 and TKt48 over 4 days in South-West Poland and which was a great success (see this still frame from the video, right.) We will be supporting others in the future. 
Before Putin's illegal invasion of the Ukraine, we were looking at Russia, where roughly halfway between Moscow and St. Petersburg, a regular Sunday steam ("Su" 2-6-2) service has started on a country branch line. Not enough on its own to justify a tour, and we were looking closely at other possibilities in the former Soviet Union, including the Ukraine, which we thought was finished after the demise of "Dzherelo" – but, no, there are steam locomotives that escaped the torch, including "L", "Er", "Su" and narrow-gauge steam and a railway administration that seems keen to operate them for us – the Pandemic has been brought under control, of course, but the war in Ukraine goes on, and until that is resolved, we won't be taking you there, even though, unlike Russia, you don't need a visa to visit the Ukraine. Maybe a combined "Classic Traction/steam tour" in both Romania and the Ukraine, will be on the cards in the future – see both "steam tours" and "classic traction and non-steam tours" for details of what we want to try to achieve. 
In 1983 we operated a "Christmas Special" tour to India, which was a great success. In those days, of  course, there was a great deal of regular steam in India and indeed in Pakistan and Ceylon). Now, apart from the mountain railways, there is virtually none – except a growing number of working preservation sites which, taken together, make a very attractive holiday! Look at our "Steam Tours" pages for evolving details of our plans for a Christmas/New year tour when it becomes possible to run one.
Of all the European countries, Bulgaria is perhaps the most progressive in its attitude towards steam railtours, having gone to considerable trouble and expense to restore some of the most interesting steam locomotives on the Continent. There is also the attraction of ex-BR Class 86 and 87 electric locomotives, so for the end of September 2023 we present both a "Steam Tour" and a "Classic Traction" tour, the latter including the best part of a day exploring the Maritza Iztok mining complex, which uses both diesel and electric traction, and through which we should travel by our chartered passenger train, something that, as far as we can establish, has never been done before! See the Bulgaria page under both "Steam Tours" and "Classic  Traction and non-Steam tours".
In Romania and the Ukraine,  we planned charters with Classic Traction (CFR Class 78, and UZ "D1" diesel railcars) and visits to the remaining steam-worked forestry railways, and a steam special or two in the Ukraine. Once again, these plans will have to be carried forward to 2024 or later, depending upon how quickly Russia can be defeated, and so details are for the time being under "tours on hold". 
Contact us on info@enthusiasthols.com with your thoughts, ideas, requirements or simply to get onto our e-mailing list through which we will from time to time let you know of our plans for future tours.